Submitted by Anonymous on
Recent news reports 44 year old Susan D. Tatro has been charged with embezzling over $576,000 from her previous employer, Waukesha Bearing Corporation, in the small city of Antigo Wisconsin. She was the Human Resource Director at the Company, where she is now accused of 30 counts of wire/bank fraud that occurred between 2006 and 2011.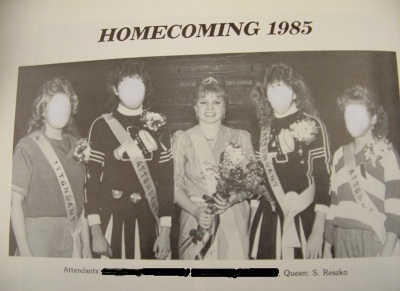 Sue Reszko Antigo Homecoming Queen 1985
Some 27 years ago, Susan Tatro, formerly Susan Reszko and commonly known as Sue or Susie, was the Homecoming Queen for Antigo High School. Some controversy had surrounded her "election". She was not your run-of-the-mill Homecoming Queen type. There was always a "hard" side to her, at least back then.
Even so, with the reputation she had, one way or the other, she did win that title.
Her next court date is June 7, 2012, and because this is a Federal case, it will take place in Green Bay Wisconsin.
------------------------------------------------------
******************UPDATE 06/07/2012********************
Court records show that Susan Tatro was present at her Arraingnment and Plea Hearing today in Green Bay. She is being represented by Attorney Keith F. Ellison of Wausau.
According to those documents, she was released without any cash bond required with the following restrictions:
- No violations of Federal, State or Local law while on release
- Cooperation in the collection of DNA sample if it is authorized
- Advise the court or supervising officer of any change in residence or phone no
- Must appear in court as required, and if convicted, must surrender as directed
- Must sign Appearance Bond, if ordered
- Submit to supervision by Pretrial Services & report for supervision
- Traveling restricted to Eastern and Western Districts of Wisconsin
- Refrain from entering any gambling establishment or participating in gambling
The Maximum Penalties are: Counts 1-30 each - 20 years imprisonment, 3 years supervised release, $250,000 fine, $100 special assessment.
A Pre-trial Conference is set for 06/27/2012.
Jury Trial date is set for August 13, 2012 at 8:30am, but, it is also stated that Attorney Ellison has conflict with that date and anticipates filing a motion.
Read the Court Record -Release Conditions
******************UPDATE 10/04/2012********************
Court records had indicated a hearing was scheduled for today, due to a new attorney for the Government being assigned and also non-sufficient time to review discovery documents and evidence, there was a delay. No new date has been set yet.
******************UPDATE 10/06/2012********************
Court records now indicate rescheduled dates. The pretrial date is set for January 02, 2013 @ 10:30am. Noted was: All plea negotiations are expected to be completed and written plea agreements filed by the time of the final pretrial conference.
Jury Trial scheduled for January 14, 2013 at 8:30am
******************UPDATE 01/02/2013********************
Tatro was due in court today, but that was delayed due to the sudden death of her husband in December. A plea hearing is now set for February 7, 2013 at 2:00pm
******************UPDATE 02/07/2013********************
The hearing that was set for today has been rescheduled. Court records indicate that Ms. Tatro will be accepting a plea deal but details have not been given.
Her next court date is now set for March 1, 2013 at 2:30pm
******************UPDATE 03/06/2013********************
A hearing took place on March 1, but nothing was done. The plea agreement is still being worked out, the amount of money is not agreed upon which is what is causing delays in the case.
The next court date is set for April 11, 2013 at 3:00pm and the dates for a 3 day jury trial are on the calendar beginning on April 22, 2013.
******************UPDATE 03/07/2013********************
Due to a scheduling conflict, the April 11 hearing date has been moved up to March 14, 2013 at 1:30pm.
A plea agreement has been made, but, the amount of stolen money is still not agreed upon by all parties.
According to the court documents, Ms. Tatro states she took between $35,000 to $40,000. Sentencing will take place at a later date.
******************UPDATE 03/14/2013********************
At today's court hearing, Sue Tatro pleaded guilty to counts 5 and 8 of the indictment.
(Count 5 of indictment states $13,757.08 and Count 8 states $14,283.42)
A Restitution Hearing is set for June 03, 2013.
The Sentencing hearing is set for June 12, 2013.