Submitted by AntigoBuzz on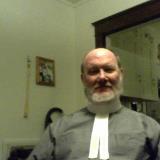 Edward L. Fleming, 59, was released from jail on $5,000 signature bond on charges of first degree child sex assault, having sexual contact with person under age of 13.
Mr. Fleming was a Pastor at the Reformation Presbyterian Tea House on Neva Road in Antigo.
Early in the case, he had fled to California, where he was eventually extradited back to Wisconsin.
His bond was previously set at $100,000 cash, which was lowered at a hearing held in Marathon County.
Related Blogs: $100,000 bond set for former Pastor Fleming Pastor Edward Fleming found in California Pastor Fredrick Edward Fleming